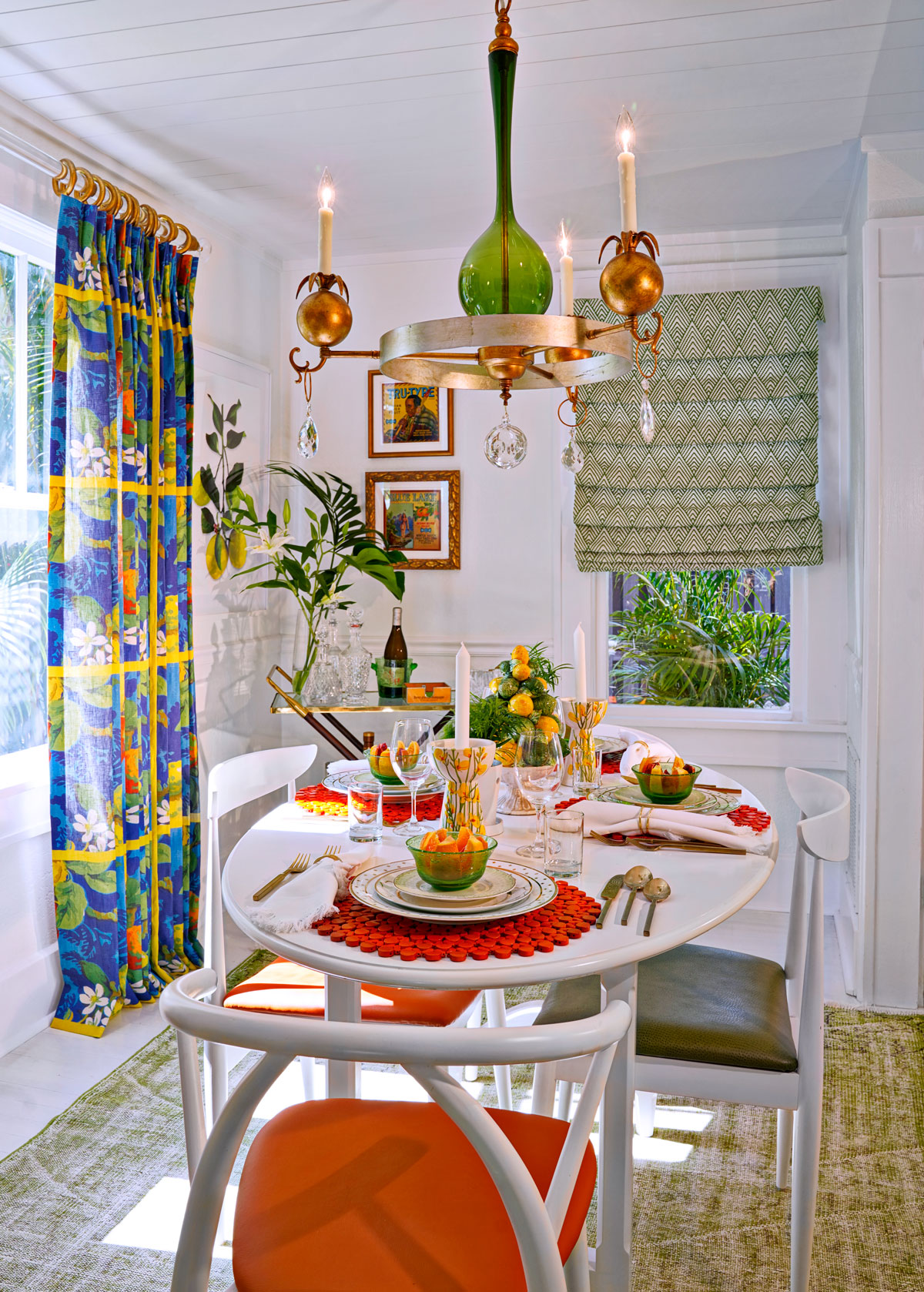 Fabulous Fabrics
Integrating various fabrics and colors doesn't have to be overwhelming, and it can create an eclectic palette for any room.  Hot trends right now are incorporating heavy linens, artificial lamb's wool looks and even velvets.  Varying textures tied together through color adds another layer to the sensory experience of any décor.
Texture can be used almost anywhere.  Adding linen pillows to a velvet sofa or including a heavily textured vintage rug to a room is an easy way to tie colors together.  Seating is a perfect place to start by using textured fabrics on chairs, ottomans or benches.  Linen curtains with color blocks or patterns can compliment a touch of color in a solid sofa.  And if busy curtains make you feel too committed, go for layered neutrals.
Color Me Happy
The neutral on top of neutral look made popular by the likes of Nate Burkas leaves lots of room for a pop of color.  The "European Farmhouse meets Old Scandinavian Treehouse" craze is thriving, but it doesn't allow for a lot of color.  Greys, beiges, muted pinks and blues used for this look can be spiced up with a boost of color.  Color makes humans happier……think of children and how they gravitate to bright colors.  Neutral is calming and ethereal, and color stimulates happiness in people.  Especially with today's modern, crisp and drier designs, bringing in some vivid color can make all the difference.
Mixed Metals
Fashion and interior design are fluid.  The way people dress reflects their style and how they live.  Many get stuck in the sphere of all-gold or all-silver in both worlds.  Just as you would mix a rope bracelet or beads you collected from an island vacation with a David Yurman bracelet, I love to mix up the metals and tie them together in a look.
Dresser knobs, for example, can be different types of metal combining brass, bronze, gold or even white.  Likewise, a chrome lamp with a touch of gold can tie into the gold hardware in your draperies or a yellow lamp with silver accents can work as well.  Frames are another opportunity to complete a look by incorporating wood, Lucite, or metal accents.
Flooring and Wall Coverings
The key to integrating floors and walls is a balance of the two with room for both.  Don't focus on just one.  Wall coverings are all about texture right now and raised tiles are trending.  Wallpaper is back and being used to create a natural feel even in a contemporary vibe.  I like the line Ann Saks is offering with curated ceramics, glass, porcelain and even concrete and stone.  Looks range from a natural wavy flow to jagged and rocky.
Flooring is toning down and centering on muted natural wood tones.  Smoother and sleeker is better, and more organic and simplistic looks are popular.  Cowhide and shaggy rugs are giving way to light floors that create a brighter, more soothing environment.  I love a white floor as it allows the color to fly off of it in a room.
Inspiration
Whether it's one room or your whole home, ask yourself "Where will this be in ten years?"  What do you want to remember about this time in your life?  Your inspiration can come from anywhere and should reflect your individuality.  If you are researching new looks, remember it's not about where to go, it's about how to look. Be specific when searching hashtags and use descriptors:  natural flooring, or colorful wallpaper.  Chairish, Etsy and places like Pinterest are good resources especially if you want to shop vintage.
It's All About You
Before embarking on a design project for your home, turn inward.  Meditate in your space.  What makes you feel good? Sit still and visualize.  More than ever what is it you need to give yourself?  Now is not the time to look outward, breathe in.  Be your own inspiration.
Kimmy's Top Three Tips:
Don't go all one way. Throw a vintage glass from Venetia into your Miami Modern look.
Add quirky things! Be eclectic….bring in greenery and nature.
Be yourself, make it yours…..claim it!
I design to create a restful and peaceful space for each individual client.  My eyes are like a camera that filters their needs and frames up a room like a photograph. In that snapshot  I focus on the aspects and balance of a room.